Motorveckan (Motor Week) is the biggest motor event in the North of Sweden. There are plenty of motor events going on during the week and Motorveckan then ends with a huge car cruise with plenty of cool cars primarily from the 50's and 60's.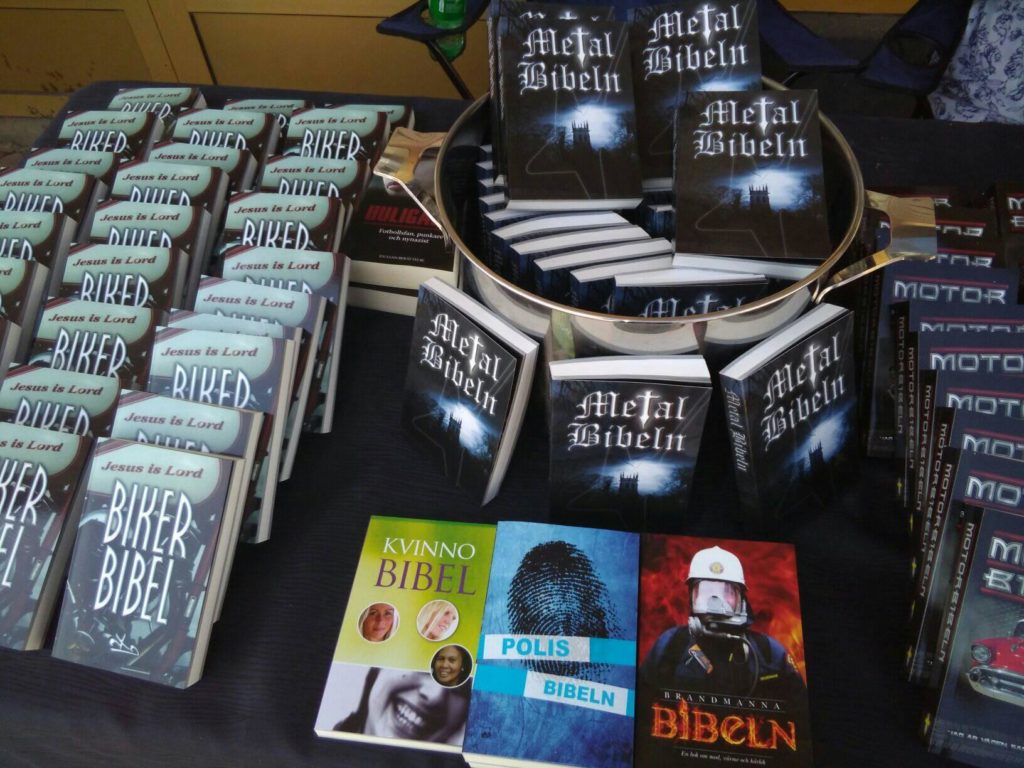 We started each day of the outreach with celebrating the Lord's Supper and praying together.
At the outreach we put up signs with the text "Feel free to take a special Bible" and then those that were interested came to us and picked up a Bible.
We got very good response and many were excited to pick up a Motor Bible, Metal Bible, Biker Bible etc and in this way 111 special Bibles went out! Amen. All glory to God.
Pray that God will continue to work in all that picked up a Bible. The outreach was a cooperation with Metal Bible International, Metal Sanctuary and Metal Community and we are so thankful to God for the opportunity to be His servants and outstretched hands to those we met.
Last but not least we want to thank every one that prayed for this outreach! If we hadn't had the prayer support people would not be as open as they were to check out the special Bibles. Big thanks also to every one that donated to us! It is because of you that we were able to offer the Bibles for free! (The special Bibles that we still have left will be used for similar outreaches in the future.) Thanks also to Ichtus that let us have a table outside their church on Friday. Thanks also to Jennie that invited us to come to Motorveckan.
Most of all we want to thank GOD for being in center and using us in this outreach. To Him be the glory.
To sum it up it was a blessing to be at Motorveckan and we will gladly come back another year!
https://metalbibleinternational.com (Metal Bible International)
www.metalsanctuary.org (Metal Sanctuary)
www.metalcommunity.se (Metal Community)
#metalbible #motorbible #bikerbible #metalbibeln #motorbibeln